The Tin Pan Alley Rag
Although there is no historic record of Irving Berlin and Scott Joplin ever having met, it's not unlikely that the legendary songwriters' paths might have crossed in that district of New York City known in the early part of the 20th century as Tin Pan Alley. That's the premise of this intriguing musical play, set into motion when the aging Joplin happens into young Berlin's office in search of a publisher for his opera, TREEMONISHA. The ensuing musical discourse highlights influential and emotional moments from each of their lives. This bracing, original piece contrasts the ironic similarities and differences between the men to the sustaining surge of musical abundance. While Joplin received a conservatory education as the prodigy of a father born into slavery, it was Berlin, the Russian immigrant who couldn't read music, who had his first international hit song at the age of 23. What becomes clear is that both Berlin and Joplin possessed musical gifts beyond measure and shared a passionate humanity, both of which are beautifully showcased and illuminated in THE TIN PAN ALLEY RAG.
In The Tin Pan Alley Rag, Mark Saltzman has devised a highly entertaining and original show about two of America's most celebrated composers, one an immigrant Jew with a passion for writing hits and the other a Black man with a passion for writing art.
Jay Reiner, Hollywood Reporter
Winner of THREE Florida Carbonell Awards (2006)
Best Musical
Best Direction of a Musical
Best Musical Direction
FIVE Philadelphia Barrymore Award Nominations (1999)
Best Musical
Best Choreography
Best Direction of a Musical
Best Actor in a Musical, (Rick Wasserman as Irving Berlin)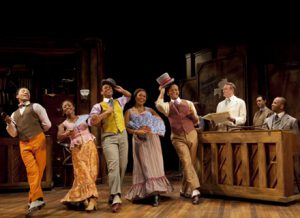 Winner
Best Supporting Actor in a Musical, (Joel Blum as Ted Snyder)
FIVE Los Angeles Ovation Award Nominations (1997)
Best Musical
Best Writing of a World
Premiere Play or Musical
Best Direction
Best Choreography
Best Actor in a Musical (David Norona as Irving Berlin)
And also nominated for
Best Actor in a Musical
Best Supporting Actress in a Musical
Best Set Design
Best Choreography
Best Sound Design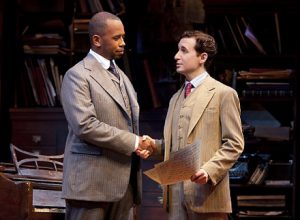 Mark Saltzman's rumination on Berlin, Joplin and the American dream has laudable aims beyond nostalgic diversion. It operates as a colloquy between parallel giants, posited against the current of their era … beautifully rendered musical selections that eschew a revue-style "greatest hits" program… panoramic… excellent.
David C. Nichols, Los Angeles Times
The drama's treatment of the racial aspect of music addresses a seminal topic in US cultural history: exactly how did African and European influences blend to create American popular music? The greatest chroniclers of jazz have been unable to answer that question, so I was happy when Saltzman allowed his notions to emerge from the specificities of Berlin and Joplin's stories rather than from speculative pronouncements.
Brendon Lemon, Financial Times
Musically impressive… fine stuff well-staged and sung by an able ensemble with feeling and energy.
Douglas J. Keating, Philadelphia Inquirer
The profound emotional exchanges between the two musicians are juxtaposed against the happy sounds of ragtime. Aside from being a profound history lesson, The Tin Pan Alley Rag is a singing, stomping good time.
Kimberly C. Roberts, Philadelphia Tribune
More than a hit parade, The Tin Pan Alley Rag dazzles with ideas as well as music… A thoughtful play illuminated by glorious music… You're almost certain to come away joyously surprised and thoroughly entertained.
Bill Hirschman, Florida Sun-Sentinel
A thoughtful glimpse at the dreams of creative artists and the ways in which their art and lives are intertwined. … delightfully entertaining … sprinkled with unforgettable tunes.
Les Spindle, Backstage West
Mark Saltzman's Tin Pan Alley Rag has IT, that untouchable variable, that magical force of theater that seemingly blankets an entire show in a winning, can't-go-wrong sheen, and infuses it with a near inexhaustible level of energy and entertainment. The result is a marvelous and engaging theater event that is wholly confident, fast-paced and enchanting from start to finish….The stuff of theatrical miracles!
William Campbell, Pasadena Weekly
The likable Tin Pan Alley Rag, slightly bigger than a vest-pocket musical, has the unassuming charm of a winsome pet that gently nuzzles you. …Some of it is factual, much of it invented, in a partly humorous, partly sentimental way. It is, to quote a formulation by Anatole France, "a story truer than the truth," as if to say: This is how we wish it, how it ought to have happened.
John Simon, Bloomberg.com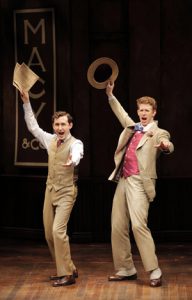 It's another musical. So who cares? You should. In the vein of Death of a Salesman, Angels in America and Ragtime, The Tin Pan Alley Rag examines art, death, racism and the pursuit of the American Dream.
J. Cooper Robb, Philadelphia Weekly
It's tunefully original …there are flashes of brilliance!
Roma Torre, NY 1
A crowd-pleasing piece of entertainment… Tin Pan Alley Rag works, delivering compact biographies of both men along with generous samples of their catalogs in a colorful package.
Eric Marchese, Orange County (CA) Register
That rare commodity, a highly entertaining evening with plenty to say. How exhilarating to leave a theater with a few songs on your lips and a few thoughts on your brain.
Hap Epstien, Palm Beach Post
Anyone remotely interested in American Popular music will find much to enjoy in this spirited production from the Roundabout Theatre Company.
Frank Shenk, Hollywood Reporter