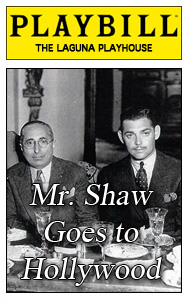 Mr. Shaw Goes to Hollywood
Orange County Weekly's Best Theater Performance of 2003:
Carmen Thomas as Marion Davies in Mr. Shaw Goes to Hollywood
On March 29, 1933, as part of a round-the-world tour he took with his wife, playwright and social reformer George Bernard Shaw visited Hollywood for the first and only time in his life. For the Shaws, Hollywood was a three-hour whirlwind which included a luncheon on the MGM lot with Clark Gable, Louis B. Mayer and William Randolph. The hostess was Marion Davies, Hearst's young mistress who was a prominent film actress and producer. With reporters following Shaw's every step, the events of that day were well documented, and they are re-created in Mark Saltzman's comedy Mr Shaw Goes to Hollywood.
The Shaws' day started off absurdly enough. Flying in Hearst's private plane, an aviation mishap caused an emergency landing on Malibu Beach. Hitch-hiking along the coast highway, the Shaws accepted a ride with a UCLA sophomore — Shaw in the rumble seat. Meanwhile, at MGM, Marion Davies is determined to star in a film of Shaw's hit play Pygmalion and will stop at nothing to weasel the rights from the playwright. Unknown to Davies, studio head LB Mayer has plans to make that very movie with Marion's rival, Norma Shearer as Eliza Doolittle. But Marion is fortunate that Mr Mayer's attention is elsewhere, on the scandal surrounding his biggest male star, Clark Gable, whose secret affair with an MGM star is about to become public knowledge All this is seen through the eyes of our guide, Charlotte Shaw, a sensible, intellectual and socially aware woman, who finds herself an Alice in this strange Wonderland of scheming, greed and glamour.
Laguna Playhouse — World Premiere, 2003
A vivacious, sprightly comedy…Expect no heady, long-winded Shavian arguments here. Mark Saltzman's play is replete with wisecracks and fast-paced scenes.
Don Shirley, Los Angeles Times
Chicago Production, Greenhouse Theater, January 2014
Filled with humor and insight into the power and politics found during Hollywood's Golden Era, this is an entertaining play that will provide some welcome warmth to Chicago's winter nights.
Chicago Theater Review
Pure Hollywood delicious
Chicago Stage Standard
Will delight anyone with even a passing affection for the Golden Age of Hollywood…many great, subtle cinephile jokes.
Centerstage Show Review (Chicago)
Insider fun for those recalling when Hollywood was a workplace instead of a fantasyland.
Windy City Times (Chicago)
Playwright Mark Saltzman creates an intoxicating environment here…a fine, nostalgic romp with truthful emotional underpinnings
Sheridan Road Magazine (Chicago)