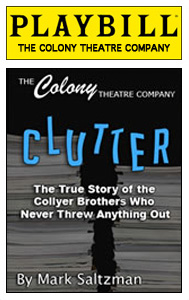 Clutter
The True Story of the Collyer Brothers Who Never Threw Anything Out
Clutter is based on the compelling true story of the wealthy, reclusive Collyer brothers who became hoarders in their Fifth Avenue mansion in 1920s Harlem. After years of compulsive collecting, the brothers have become notorious shut-ins in their aristocratic New York neighborhood. Langley Collyer is missing and Homer Collyer is found dead amongst floor-to-ceiling piles of newspapers, books, and junk. The police investigating the case, two brothers with a strained relationship mirroring that of the Collyers, are simultaneously making discoveries about themselves. Narrated by the brothers and the police investigating the bizarre case, this darkly fascinating tale is a poignant and profound exploration of human behavior.
Critics love "Clutter" 2004 World Premier, Colony Theater, Los Angeles
Selected as L.A. Times "Critic's Choice"
A packrat's motto: "This could be worth something someday." Mark Saltzman's new play "Clutter" is already worth a lot….this examination of the Collyer brothers, the world's most famous packrats, is shamelessly entertaining…But Saltzman doesn't depict the Collyers as completely weird. By the end, he makes a broader point about the common human insecurities that surely contributed to the Collyers' problems…richly comic…brilliant…
Don Shirley, Los Angeles Times
Mark Saltzman's pseudo-documentary murder mystery, "Clutter" is charming, delightful and wonderfully well-staged….He has written an entertainment that is wise, generous and witty.
Ed Kaufman, Hollywood Reporter
It is Saltzman's writing and Rick Sparks' compelling production, deploying comedy to tackle a subject one would expect to find approached with hushed naturalism, that give this play the tensile strength and the power of an impassioned fable. What Saltzman does, with extraordinary humorous compassion, is to use the tale of the Collyer Brothers to also portray the same strained relationship of the two brother cops involved in the unfolding drama…"Clutter" is a great play.
M. Barnfarther, Burbank Leader (L.A. Times Burbank section
A riveting play…As a study in bizarre behavior and obsession, the play is engaging and engrossing.
Cynthia Citron, KABC
Much entertainment and food for thought…hilarious…an intoxicatingly theatrical experience…scores a clean dramatic sweep.
Les Spindle, Back Stage West