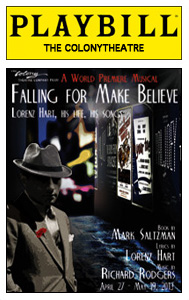 Falling For Make Believe
Lorenz Hart, His Life, His Songs
Critical Acclaim for "Falling for Make Believe"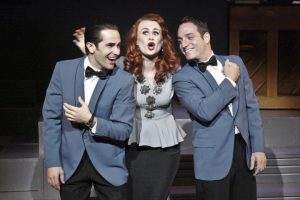 Reviews from the June 2022 Chicago Production
Wonderful… tantalizing… a chance to get to know more about Rodgers and Hart, and a showcase for some of their beautiful songs, many of which have become parts of the Great American Songbook and classics for the ages.
Chicago On Stage
Falling for Make Believe packs in so many songs by Lorenz Hart and Richard Rodgers, it's easy to assume the show is a merely hit parade for the legendary team. Not so. We do get the hits, starting with Bewitched, but the show is as revelatory and disturbing as it is accessible and polished, a portrait of creative genius that is well worth seeing.
Picture This Post Chicago
I expected an evening of American Songbook classic songs. What I did not expect was a moving, poignant play exploring the complicated relationship between the legendary musical theatre team of Richard Rodgers and Lorenz Hart.
Skokie Patch
The show is worth seeing not only to remember Larry Hart's life, but also to remember his glorious, clever lyrics put to Richard Rodgers' sublime music, whether these songs are new to you or they are old friends.
Around the Town Chicago
I'm happy to report Skokie Theater has a real winner with their biographical musical Falling for Make Believe based on the lives and works of Dick Rodgers and Larry Hart…Playwright Mark Saltzman sketches a scenario that tells the true tale (based on sound scholarship, in this writer's opinion), which allows the story to be told in song. That is a delight, since the score uses the writing team's beloved hit songs.
Chicago Cabaret Magazine
More Great Things about Falling for Make Believe
It's ultimately the numbers, overseen by musical director Keith Harrison and choreographer Lisa Hopkins, that drive Saltzman's affecting narrative, sold by the accomplished ensemble …superbly effervescent …audiences should be bewitched.
Los Angeles Times
If you're anywhere near Southern California, by all means go see 'Falling for Make Believe.' Here's hoping it will be performed elsewhere soon as well. If you're not familiar with Rodgers and Hart, it's a great introduction; if you are, you'll be, well, beguiled again.
Advocate (National Edition)
This gem of a new musical contains some of the best theater music ever written, showcased by the surprising story of the man who wrote the lyrics. It's a compassionate tale simply wrought that doesn't over-sentimentalize its subject but offers a thoughtful look at the price of genius and one poet of Broadway's gift of words.
Broadway World
You can't help but be awed and swept away by the music, and mourn the loss of such a tremendous talent…'Falling for Make Believe' is to be commended for telling the story of one of Broadway's most notorious romantics. It's the preface to a man, on how we met, that the world can never forget.
Don Shirley, LA Stage Times, Best of 2013 LA Theater
'Falling for Make Believe.' Musicals that piggyback on existing scores by the greats don't get much better than this glimpse into the closeted life of Lorenz Hart and his very platonic and sometimes stormy relationship with his composing partner Richard Rodgers. Although Mark Saltzman's book has its own "make believe," it hews much closer to the truth than previous fictional depictions of Hart. In its premiere at the Colony, directed by Jim Fall, it already had been streamlined to a fast-paced length that many shows reach only in their second or third productions. So where and when is this show's second production? I want to see it again.
This Stage LA
Harry Truman once said, "The only thing new in this world is the history you don't know." 'Falling for Make Believe' offers something very new indeed.
Burbank Leader
Mark Saltzman's new musical at the Colony is much more than a revue, masterfully capturing not only the wit and melancholy of Hart's lyrics but also the angst of his closeted, alcoholic adult years.
LA Stage Times
…offers tender moments, two dozen of the pair's greatest hits and a sobering glimpse at the backstage paradox of Lorenz Hart.
Los Angeles Weekly
Mark Saltzman is one smart cookie. He approaches his new bio-musical of the legendary Lorenz Hart with a passionate curiosity about the great man's life and career: Intellectual curiosity about what was and imaginative curiosity for what might have been. …And, oh, the Rodgers & Hart songs which are magnificently arranged and sung in this Colony Theatre world premiere.
State and Cinema
The brief but artistically blessed life of legendary Broadway lyricist Lorenz Hart now serves as the inspiration for 'Falling for Make Believe', a Colony Theatre world premiere musical that entertains, elucidates, and ends up this spring's most unexpected treat.
Stage Scene LA
The Colony Theatre has a winner in this production of 'Falling for Make Believe.' It is a welcome addition to Los Angeles theatre and a MUST SEE.
NOHO Arts District News
Dark, gritty and unsettling. But that, in turn, is what makes Mark Saltzman's book the masterwork it is.
North Hollywood Patch
The Colony Theatre ends its "Season of Premieres" with a base-clearing home run. 'Falling For Make Believe' combines terrific Broadway song-and-dance with a compelling drama of the life of Broadway lyricist Lorenz Hart.
MyBurbank.com