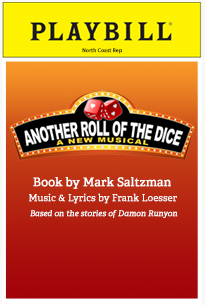 Another Roll of the Dice
North Coast Rep, San Diego 2019

It is a charming, funny, nostalgic, faithful, well-sung and well-produced show that creatively honors the memory of Runyon and Loesser.
Pam Kragen, The San Diego Union-Tribune
Saltzman told Playbill.com, "We imagined Guys and Dolls as a pastrami dinner at Mindy's Restaurant and Another Roll of the Dice as a slice of cheesecake for dessert. Or maybe strudel.   …read more
Michael Gioia, Playbill
In The Tin Pan Alley Rag, Mark Saltzman has devised a highly entertaining and original show about two of America's most celebrated composers, one an immigrant Jew with a passion for writing hits and the other a black man with a passion for writing art.
R, The Vista Press</span
Sometimes you win and sometimes you lose, but with Another Roll of the Dice you'll find a real winner.
Andy Lee, North County Sun
Six excellent actors, playing umpteen comedic roles adds up to one fun-filled evening you will love!
Art Rocks 247
A roller-coaster of a musical ride through "Guys and Dolls" territory that will keep you giggling.
Jean Lowerison, SDGLN
The characters are brought to life by this brilliant cast of performers playing multiple roles.
Elizabeth Westphal Youngman, The Village News
Mark Saltzman and director Larry Sousa collaborated to bring us more of Damon Runyon's loveable gangsters, their Judys, and a few unlikely types who were swayed to the shady side for love or money in the world premiere of Another Roll of the Dice.   …read more
Eva Trieger, San Diego Jewish World
In the world premiere of the cleverly crafted story of shady characters and shady stories in Mark Saltzman's musical comedy.
The Vista News