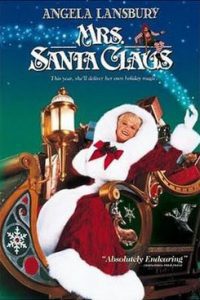 Buy the DVD today at


Mrs. Santa Claus
Screenplay by Mark Saltzman
Angela Lansbury as Santa's Neglected, Determined Wife
Nominated for 6 Emmy Awards including "Best Music and Lyrics."
Anyone who thought for a minute that the end of the 12-year run of "Murder, She Wrote" on CBS was a cue for Angela Lansbury to slip quietly into well-heeled retirement just doesn't know Miss Lansbury. With more than 50 years of performing behind her, on stage, screen and television, the actress is back, exuding more energy and charm than ever in Mrs. Santa Claus on Sunday.
The CBS movie, billed as the first original musical for television since Rodgers and Hammerstein's Cinderella in 1957, turns out to be, of all things, a feisty feminist and unionist tract set in 1910.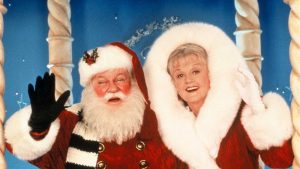 It seems that Mrs. Claus, rather neglected in the lonely North Pole, is "tired of being the shadow behind a great man." He has seen every corner of the world; all she has seen is snow. So with Santa (Charles Durning) preoccupied with his work, Mrs. Santa takes the sleigh and reindeer to try out an alternate delivery route she has devised.
But an unexpected wind current plops the sleigh down right in the middle of the Lower East Side of Manhattan, a hotbed of multicultural activity. Cupid, one of the reindeer, has hurt his leg, and it seems that there is nothing for Mrs. Claus to do but spend a few days spreading cheer and wisdom among the people.
In no time at all, she is leading a suffragist parade to win women the vote and organizing youngsters in a toy factory to fight for child-labor laws. Meanwhile, back at the North Pole, a contrite Santa, sorely missing his wife, is being zanily comforted by his head elf, Arvo (Michael Jeter).
This is, as you might have guessed, family entertainment with a vengeance. Its schmaltz is enhanced unapologetically by Jerry Herman's score. Mr. Herman is an unabashed crowd pleaser, tossing his audiences tunes they can whistle with pleasure.
Only he can write a lyric, for a song called "We Don't Go Together at All" (the boy, a George Stephanopoulos look-alike, is Italian; the girl is Jewish), which insists: "A girl with a drive and a fellow with a dream are like pickled herring and vanilla ice cream." Shameless. And curiously charming. Incidentally, two of Miss Lansbury's four Tony Awards came out of Herman musicals: Mame (1966) and Dear World (1969).
The exterior scenes in the movie were shot on the permanent New York City street sets on a back lot at Universal Studios, the huge space giving the elaborate production numbers, choreographed by Rob Marshall (Dear, Victor/Victoria), the sheen and aura of an old-fashioned Hollywood musical. The costumes – Mrs. Claus supposedly gets her stunning secondhand duds on credit – are designed by Bob Mackie.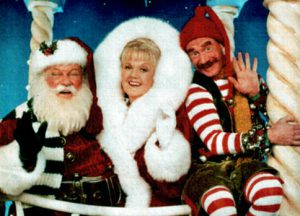 The exceptional cast also includes Terrence Mann (Beauty and the Beast) and a charming youngster named Lynsey Bartilson, who holds her own nicely in song-and-dance numbers with Miss Lansbury.
But it is Miss Lansbury herself who is the indisputable leader of this band. She brings verve to the musical numbers; she jumps down chimneys; she cares passionately about young and old. And she turns Mrs. Santa into one of the more welcome surprises of the holiday season.
John J. O'Connor, The New York Times, December 6, 1996